Product design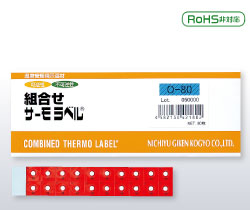 Color sample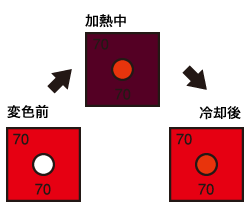 Small combination type suitable for small and narrow area
Temperature range:70~100℃
40pcs/pkg
Non-RoHS compliant
| Reversible | Irreversible | Semi-reversible |
| --- | --- | --- |
| ● | ● | |
This combination label consists of an irreversible temperature-indicating element (temperature label)
at the center of a reversible Thermo Sheet
TM
base.
Trace temperature history with the irreversible label and current temperature with the reversible sheet.
スクロールしてご覧いただけます。
Type
Temperature indicating element(irreversible)
Base(reversible)
JAN Code
Temp
(℃)
Color Change
Temp
(℃)
Low←
→High
O-70
70
White→Red-orange
70
Red←→Dark brown-purple
4582130421796
O-80
80
White→Blue
70
4582130421802
O-90
90
White→Red
70
4582130421819
O-100
100
White→Dark red
70
4582130421826
Structure cross section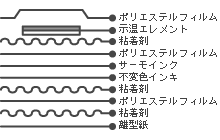 *THERMOLABEL, RETOMARK, MEDESHILL, UVLABEL, DEWLABEL and Thermo-Paint in all the contents including digital catalog in this website are registered trademarks in Japan of NiGK Corporation.


is registered trademark of NiGK Corporation, in Japan,New Zealand and Philippines.
isregistered trademark of NiGK Corporation, in Japan,Australia,European Union and Switzerland.
CONTACT
For questions about the products,
please click the banner.

Send Inquiry