Package design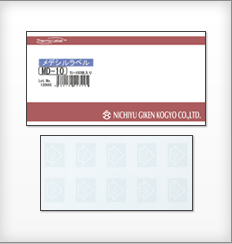 How color changes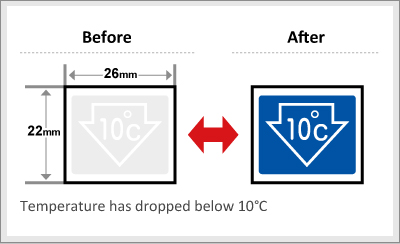 Turns to blue reacting to condensate

50pcs/pkg
RoHS Compliant



MEDESHIL LABEL™ is sticker type thermometer which reversibly change its color from white to blue when air temperature drops below color change temperature. It is especially designed for low temperature monitoring such as Fridge, Fresh Food returnable container and Cold chain logistic monitoring.


| Reversible | Irreversible | Semi-reversible |
| --- | --- | --- |
| ● | | |
Features
1 level low thermometer sticker
Reversible
Widely used for fridge temperature monitoring
1 level simple indication
Self adhesive for easy apply and easy monitoring
Multiple-use
Temperature variation: 0°c,5°c and 10°c
Clear result
スクロールしてご覧いただけます。
Product line up
Product name
Color change
temperature(℃)
Accuracy
Color change
Size(mm)
MD-0
0
±2°c
White ⇔ Blue
22×26
MD-5
5
MD-10
10
Application Sample
*THERMOLABEL, RETOMARK, MEDESHILL, UVLABEL, DEWLABEL and Thermo-Paint in all the contents including digital catalog in this website are registered trademarks in Japan of NiGK Corporation.


is registered trademark of NiGK Corporation, in Japan,New Zealand and Philippines.
isregistered trademark of NiGK Corporation, in Japan,Australia,European Union and Switzerland.
CONTACT
For questions about the products,
please click the banner.

Send Inquiry