NiGK Corporation has been one of the core members of NOF CORPORATION Group, since the establishment in December 1980.
We provide various niche-market-oriented products to the very wide range from the ocean to outer space. Most of those are ingenious and unique.
You can see the history of our company in the table below.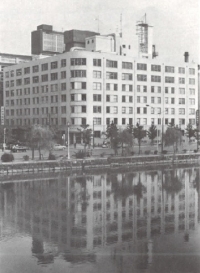 Brief history of NiGK Corporation
スクロールしてご覧いただけます。
| | |
| --- | --- |
| Year | Topics |
| Dec. 1980 | Nichiyu Giken Kogyo Co., Ltd was established by NOF Corporation. |
| Sep. 1982 | By capital increase, capital become ¥ 450 million. |
| Feb. 1992 | By capital increase, capital become ¥ 1,080 million. |
| Dec. 1995 | Went public. By capital increase, capital become ¥ 1,478 million. |
| Nov. 1999 | Concluded a sales agreement regarding Chemical Indicators for Sterilization with Ansell S.A. (France). |
| Nov. 2001 | Established CACTUS Co., Ltd. (wholly-owned subsidiary) |
| Nov. 2004 | Environmental activity program was certified to EcoAction 21 which was formulated the Ministry of Environment. |
| Dec. 2004 | Listed on JASDAQ Securities Exchange. |
| Mar. 2005 | Acquired the certification of ISO 9001:2000. |
| Apr. 2007 | Introduced a ERP system. |
| Sep. 2009 | Concluded a mutual distributorship agreement regarding Temperature Indicators with TEMPTIME Corp. (USA). |
| Mar. 2010 | Acquired the certification of ISO 9001:2008. |
| Sep. 2010 | Became a wholly owned subsidiary of NOF Corporation by exchange of shares. Delisted from JASDAQ market. |
| Apr. 2013 | Our English corporate name was changed to NiGK Corporation. |
| Mar. 2014 | Acquired the certification of ISO 14001:2004. |