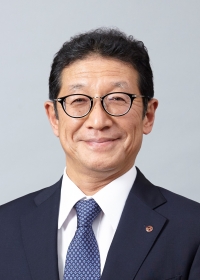 We are committed to serving our customers' needs and the creation of new values
NiGK Corporation management philosophy is to deliver ingenious technologies and services from the oceans to outer space for our customers as part of our contribution to the well-being of the people and society.

Since our founding in 1980, our innovative products have been used widely, ranging from deep ocean research to space exploration ensuring the safety and reliability of various systems. We will aim to further contribute to the development of society by promptly adapting ourselves to changes and satisfying our customers' needs, creating advanced values. We also are committed to fulfilling social responsibilities, including compliance with relevant laws, environmental conservation and assurance of health, safety and security in order to win the trust and satisfaction of our stakeholders. We look forward to your continuous support and encouragement.
President and Representative Director Makoto Ihori
Corporate Philosophy
We are committed to creating new and original technologies and services in various fields ranging from the ocean floor to outer space for the betterment of all.
We respond swiftly to societal changes and ever-advancing clients' needs.
We are mindful of society and environmental conservation in pursuing our business and ensuring safety and reliability.
We aim to establish a company offering employees a challenging career worthy of pursuit.