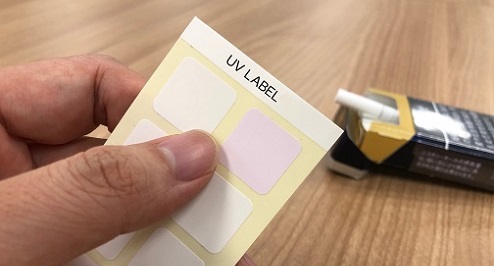 "Smoky" relationship between UV LABEL™ and sunlight
Ultraviolet in Sunlight
Hi, everyone. As the topic of this time, we are going to introduce one of our functional indicators, UV LABEL™ and its unique example of use.
As widely known, sunlight consists of layers of different spectrums of light including ultraviolet, which is not visible to naked human eyes. The visualization of ultraviolet effects is crucial for visual hygiene control and UV LABEL™ visualizes the effects of UV irradiation by changing of the color.

As UV LABEL™ has the above characteristics, the following applications will be considered.
* For confirming irradiation of sunlight for disinfection purpose
* For confirming ultraviolet light-cut performance in a darkroom
* For storage of goods or inventories that should not be exposed to sunlight
* For gaining assurance for unopened carton in outdoor storage
* For demonstration or testing specification of UV-cut related products

You can choose the product from the five types (S, H, M, L, LED-1) with different sensitivity levels.
Let's start the experiment!
As an experiment, I have a made small "prank" on a colleague at an indoor exhibition last July. He is a smoker… even loves smoking. During a small break after lunch, he returned work, but I secretly put a UV-S label on his back.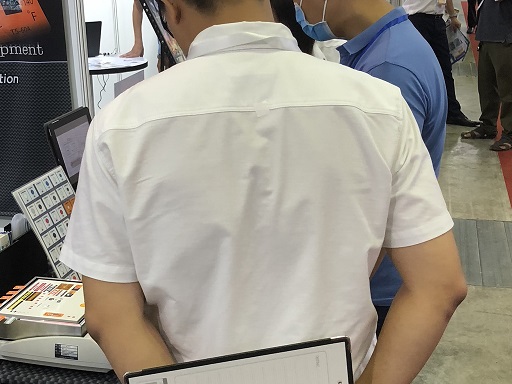 You see that the label is originally white. What will be the result?



When he came back after a while, I found the label put on his back clearly stands out as it had turned to vivid pink (end-point)!

As the smoking area was restricted to designated outdoor space only, it was obvious he had been for a while away from the working site to enjoy smoking! When you smoke outside, you might want to check your back, otherwise you may find your salary has "unknown" job time deduction… I however recommend you smoke only during break period.
Excessive control over the attendance and absence of workers may have pros and cons, but controlling your UV irradiation process properly always beneficially works for quality controls!

The situation of COVID-19 pandemic recently looks getting worse again throughout the world. We hope your safe and the time comes when we can walk under sunshine without even masks.
Stay safe!