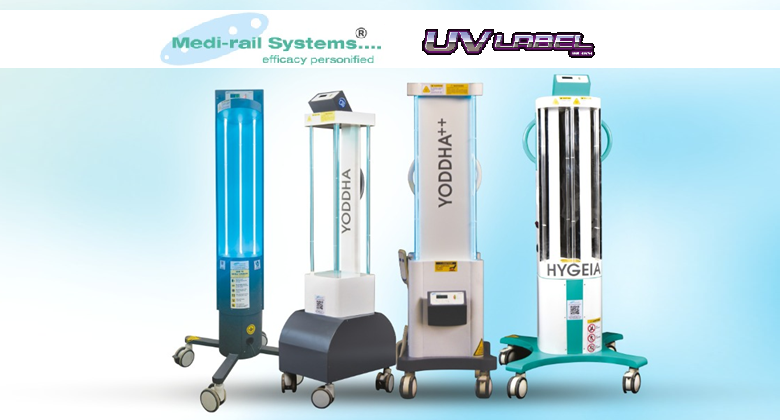 "UV indicator" for disinfection practices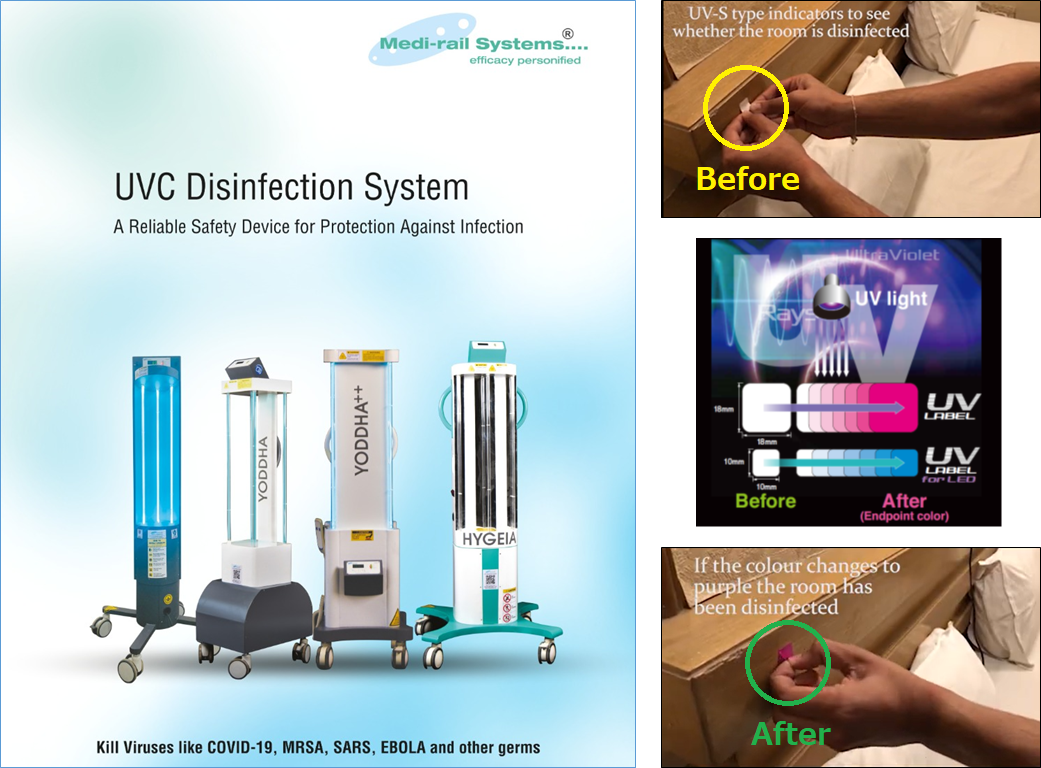 Indicators contributes to infection control amid COVID-19 confusion
As the winter season is setting in the northern hemisphere, the spread of coronavirus has been causing even serious confusion in each country. The number of new cases in Japan is hitting the highest records by the third wave, and there are growing concerns about the economic slowdown and the collapse of the medical system. It is expected that the worst-ever situation will be improved sooner as the system of vaccination program is put into practice, but it is important to keep with the everyday habits of washing hands and wearing masks and infection prevention measures should continue in public places.
Nowadays there are several kinds of infection control measures as precaution, though in this article we would like to introduce the way of infection control using UV light. This preventive measure is expected to easily kill or inactivate most of the viruses in a short time, and is actually being used not only for medical institution rooms and equipment, but also for others, such as for the disinfection of the airplane cabins and the hotel rooms.

You can find the effectiveness and some evidences about the UV disinfection on the following website!
https://dst.gov.in/uv-disinfection-trolley-can-effectively-clean-hospital-spaces-combat-covid-19

Medi-rail, a UV disinfection device supplier and our great partner from India offers four types of excellent mobile disinfection towers using UV-C wavelength.
Interesting video information which you can check as below was provided from them and aired on YouTube.
Please do not miss it!
You can recognize the effectiveness of the UV disinfection system as well as that the UV indicator is used to clearly see if the work is done completely and reliably.
Features of "UV indicator"
Checking the radiation dose level for disinfection by color change.




The indicator gives an evidence and can kept as important record.


<* It is essential to check some related conditions about the color change in advance with the indicator and the device.>


_

Increasing the reliability of disinfection of hard-to-get at spots.


<* The presence of an uninactivated virus may infect your loved ones.>


_

Checking the performance of the device as UV-C lamps have limited service life.


<* Medi-rail's lamp service life is 10,000 hours, but the validation gives big peace of mind>


_

Just paste the UV indicator where you want. Easy to handle and easy to check.


<* It is an indicator of seal type. Please check the color change immediately after test as there is a possibility of color fading.>
About disinfection towers of Medi-rail company
Medirail, which is sited Pune in India has unique innovative concept that helps in enhancing patient care staff's efficiency. Medical accessories and equipment lying on the ground in general wards/ICU/OTs is common site in hospitals. They provide reliable safety device for protection against infection.

YODDHA, YODDHA++, HYGEIA & HYGEIA LITE, are the latest constant wave UV_C surface and air disinfection technology designed specifically for all areas of the hospital and healthcare environment.
The Towers are completely mobile, making them perfect for disinfecting ambulances and suitable for disinfecting patient rooms, operating theatres and all over the hospital, or even in airplane cabins, hotels corporate offices, conference rooms i.e. any space.



They give optimum results along with a fast and effective germicidal dose of continuous wave UVC energy killing germs and pathogens when and where you want. The disinfection Tower is perfect for use all over the hospitals, in even the smallest spaces. It can be adjusted for any height between covering floor to ceiling and eliminating shadows, for more thorough disinfection. The Tower completely removes the guess work and ineffective of regular cleaning.
Contact
Should you have any interests about Medi-rail, please contact directly the following information.
medirailindia.com
Download
Related informative documents from Medi-rail Corp are as below.