Product design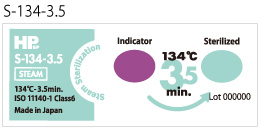 Package design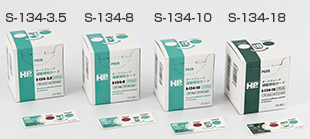 Type 6 indicator series
(134 series)

NiGK sterilization monitoring card is a type 6 indicator which is designed to react to all the critical parameters of steam sterilization cycle. The SVs are accurately measured with the special sterilizer called "CIER" in our laboratory.The following is the main features of NiGK type 6 chemical indicator
Product feature
An extensive lineup from 134℃-3.5min to 134℃-18min for prion cycle
Compatible with ISO11140-1 type 6, most accurate chemical indicator
Reference color to help you to interpret the results
Indicator surface is laminated to prevent contamination on and from instruments
Indicator is sandwiched between films to prevent bleeding of indicator ink
"Speckle color change" for easier interpretation of results
Clear-cut color change
User-friendly small size
Lot numbers printed on each piece
Designed and manufactured in Japan
Thorough quality control with specially designed resistometer, CIER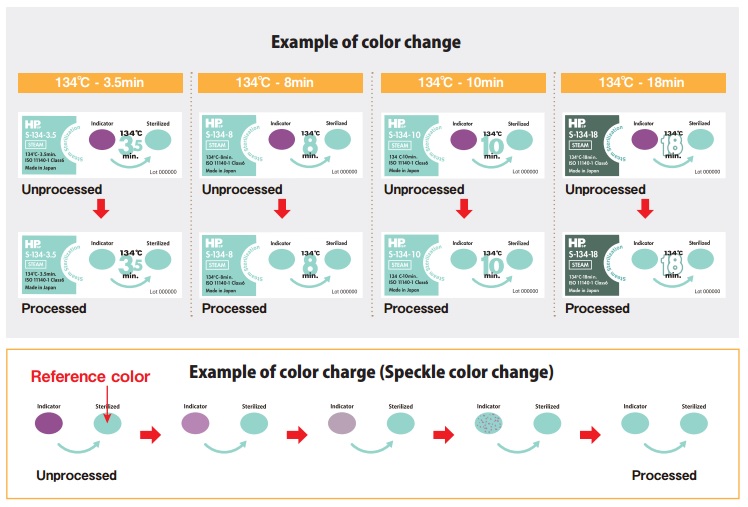 スクロールしてご覧いただけます。
| Product name | Stated Value | Dimensions(mm) | Content |
| --- | --- | --- | --- |
| S-134-3.5 | 134℃-3.5min | 25*62 | 250 pcs |
| S-134-8 | 134℃-8min | 25*62 | 250 pcs |
| S-134-10 | 134℃-10min | 25*62 | 250 pcs |
| S-134-18 | 134℃-18min | 25*62 | 250 pcs |
card design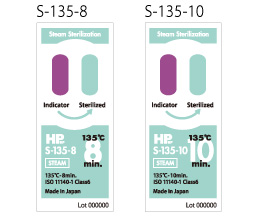 Package design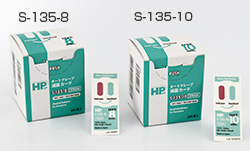 Type 6 indicator series
(135 series)

NiGK sterilization monitoring card is a type 6 indicator which is designed to react to all the critical parameters of steam sterilization cycle. The SVs are accurately measured with the special sterilizer called "CIER" in our laboratory.
The following is the main features of NiGK type 6 chemical indicator
Product feature
Compatible with ISO11140-1 type 6, most accurate chemical indicator
Reference color to help you to interpret the results
Indicator surface is laminated to prevent contamination on and from instruments
Indicator is sandwiched between films to prevent bleeding of indicator ink
"Speckle color change" for easier interpretation of results
Clear-cut color change
User-friendly small size
Lot numbers printed on each piece
Designed and manufactured in Japan
Thorough quality control with specially designed resistometer, CIER
スクロールしてご覧いただけます。
| Product name | Stated Value | Dimensions(mm) | Content |
| --- | --- | --- | --- |
| S-135-8 | 135℃-8min | 62*25 | 250 pcs |
| S-135-10 | 135℃-10min | 62*25 | 250 pcs |
CONTACT
For questions about the products,
please click the banner.

Send Inquiry