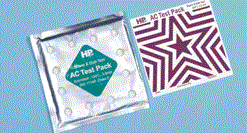 "AC Test Pack" is a disposable type

Bowie & Dick test pack

which is pre-assembled and meet the requirements of ISO-standard. Indicator sheet is sandwiched between thick papers and wrapped by perforated aluminum bag. The thickness is just 7mm at the highest point and weight is just 50g per piece.
This Bowie & Dick test has been used in Japan and in foreign countries for decades and we enjoy the first place in the domestic market.
If you are interested in becoming our distributor, please contact us from this form.