THERMOTAPETM-TR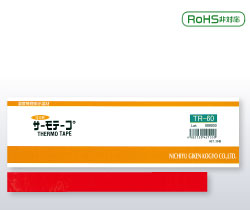 Color example
Color transition simulation

Tape base reversible indicator
Temperature range:40~70℃
No RoHS compliant
| Reversible | Irreversible | Semi-reversible |
| --- | --- | --- |
| ● | | |
THERMOTAPE™ is a reversible indicator that changes color at the specified temperature and reverts to its original color when cooled. It can be used repeatedly. Both sides of the tape retain the original color (before changing), making any color change due to a rise in temperature obvious at a single glance. As a tape, it can be cut into strips of any length.
Applications
Burn prevention
Limit temperature monitoring at site
スクロールしてご覧いただけます。
Type
Temperature(℃)
Low
←
→
High
Accuracy
JAN code
TR-40
40

Reddish yellow
←
→

Reddish orange
±2℃
4582130421536
TR-50
50

Yellow
←
→

Yellowish orange
±2℃
4582130421543
TR-60
60

Bright yellowish red
←
→

Dark brown-purple
±2℃
4582130421550
TR-70
70

Red
←
→

Dark brown-purple
±2℃
4582130421567
*THERMOLABEL, RETOMARK, MEDESHILL, UVLABEL, DEWLABEL and Thermo-Paint in all the contents including digital catalog in this website are registered trademarks in Japan of NiGK Corporation.


is registered trademark of NiGK Corporation, in Japan,New Zealand and Philippines.
isregistered trademark of NiGK Corporation, in Japan,Australia,European Union and Switzerland.
CONTACT
For questions about the products,
please click the banner.

Send Inquiry