Package design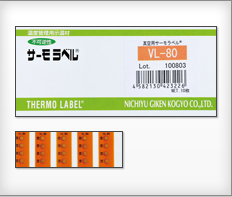 How color changes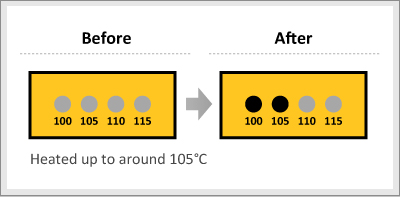 Specially designed label for vaccum condition from 1Pa to the atmospheric pressure
Temperature range:40~210℃
10pcs/pkg
Strictly under the control of ISO9001:2008 QC system.
RoHS Compliant


Vacuum Thermo Label is label type temperature indicator able to use under vacuum environment (1Pa~ordinary pressure). Temperature monitoring can be done without wiring and electric powers supply just by applying this label on where it is necessary. Color-changing area changes its color from light yellow to black when response temperature is exceeded.


| Reversible | Irreversible | Semi-reversible |
| --- | --- | --- |
| | ● | |
Features
4 level temperature indicator for vacuum temperature
Irreversible, single-use
Temp range: 40C to 210C
Self-adhesive
Minimize precision error under vacuum condition
Low outgassing
Self-adhesive easy to apply on various location
Vacuum temperature monitoring
Irreversible & single use
スクロールしてご覧いただけます。
Product name
Temperature
Combination(℃)
Before
After
Accuracy
JAN Code
VL-40
40-45-50-55
Pale yellow
Black
±2℃
4582130423202
VL-60
60-65-70-75
Pale yellow
Black
±2℃
4582130423219
VL-80
80-85-90-95
Pale yellow
Black
±2℃
4582130423226
VL-100
100-105-110-115
Pale yellow
Black
±2℃
4582130423233
VL-120
120-125-130-135
Pale yellow
Black
±2℃
4582130423240
VL-140
140-150-160-170
Pale yellow
Black
±4℃
4582130423257
VL-180
180-190-200-210
Pale yellow
Black
±4℃
4582130423264
Measure surface temperature of silicon wafer

For silicon wafer surface temperature measurement
Measuring sputter temperature

Our facility
The color changing temperature of the Vacuum Thermo Label is calibrated under pressure down to 1Pa with the dedicated measurement instrument.
*THERMOLABEL, RETOMARK, MEDESHILL, UVLABEL, DEWLABEL and Thermo-Paint in all the contents including digital catalog in this website are registered trademarks in Japan of NiGK Corporation.


is registered trademark of NiGK Corporation, in Japan,New Zealand and Philippines.
isregistered trademark of NiGK Corporation, in Japan,Australia,European Union and Switzerland.
CONTACT
For questions about the products,
please click the banner.

Send Inquiry