Package design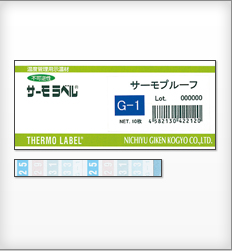 How color changes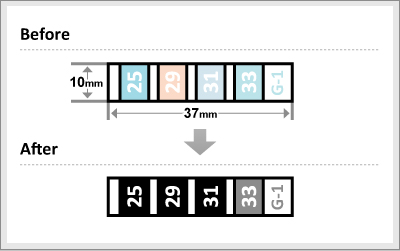 High-temperature resistant indicators printed on metal base label
Temperature range:250~450℃
10pcs/pkg
RoHS Non-Compliant




THERMOPROOF is the label shape product of Thermo-PaintTM. The backside is coated with adhesive material for easy apply.
The color changing characteristics is the same as irreversible thermopaintTM.
*For use at 10℃ or below or at 15℃ or below follow the instructions
*Not available at vaccum conditions.


| Reversible | Irreversible | Semi-reversible |
| --- | --- | --- |
| | ● | |
Features
Thermo-Paint® in label shape
Easy apply
High temperature monitoring
スクロールしてご覧いただけます。
Product line up
Product name
indication
Temperature
Before
After
JAN Code
G-1
25
250℃

pale greenish blue

black
4582130422120
29
290℃

pale pink

black
31
310℃

bright bluish gray

black
33
330℃

pale bluish green

brownish black
G-2
※36
360℃

white

blownish gray
4582130422137
41
410℃

blue

brown
44
440℃

white

greenish gray
45
450℃

purple

white
Usage
Apply where heating temperature monitoring is required.
Usage consideration
Clean apply surface well before applying label
Use THERMOPROOF within 1 year after purchase.
Lower temperature under 10C° can deteriorate the bend ability and might cause the label cracking.
Adhesive ability is deteriorated under the temperature lower than 15C°. Under such a condition, heat the label and applying surface up to around 25C°.
Use the label as soon as after purchase. Aging can deteriorate adhesive ability but it does not affect the performance.
Storage
Store unused indicators under room temperature and dark condition Avoid excessive humidity
Precautions
Please see Thermo-Paint® technical document for color change characteristics.
Use within 1 year after purchase
Information on the toxic substance in the raw material
Please refer to MSDS of THERMOPROOF
Directive of RoHS
THERMOPROOF doesn't contain chemical substance prohibited in the RoHS directive except from No.36
Hazards identification
Immediate health, physical, and environmental hazards: The environmental properties of this product present a low environmental hazard. This product, when used under reasonable conditions and in accordance with the directions for use, should not present a health hazard. However, use or processing of the product in a manner not in accordance with the product's directions for use may affect the performance of the product and may present potential health and safety hazards.
Disclaimer
The information in this sheet is believed to be correct as of the date of issue Nor the selling, nor the producing company make no warranties, expressed or implied, including, but not limited to, any implied warranty of merchantability or fitness for a particular purpose or course of performance or usage of trade. The user is responsible for determining whether this product is fit for a particular purpose and suitable for user's method of use or application. Given the variety of factors that can affect the use and application of this product, some of which are uniquely within the user's knowledge and control, it is essential that the user evaluate this product to determine whether it is fit for a particular purpose and suitable for user's method of use or application.
*THERMOLABEL, RETOMARK, MEDESHILL, UVLABEL, DEWLABEL and Thermo-Paint in all the contents including digital catalog in this website are registered trademarks in Japan of NiGK Corporation.


is registered trademark of NiGK Corporation, in Japan,New Zealand and Philippines.
isregistered trademark of NiGK Corporation, in Japan,Australia,European Union and Switzerland.
CONTACT
For questions about the products,
please click the banner.

Send Inquiry