Package design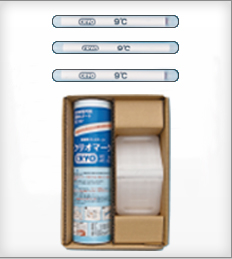 How color changes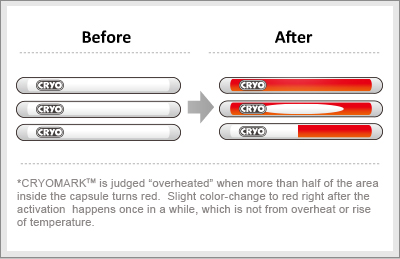 Cold chain indicator stick. Break it with a starter to go. Can be stored at ambient temperature.
Temperature range:-20~9℃
50pcs/pkg
RoHS Compliant




Stick type cold chain indicator which is stored at ambient temperature. Indicator ink is capsulized in a glass vial which is covered with a plastic stick. The capsule comes with a special jig to activate the indicator before use.
| Reversible | Irreversible | Semi-reversible |
| --- | --- | --- |
| | ● | |
Features
Detects temperature rise in freezer or refrigerator temp. zone and provides indication by a color change to red.
Designed to be frozen before use and bent with supplied tool for activation.
Simple activation even in a frozen environment.
Easier to use than a data logger.
スクロールしてご覧いただけます。
Product line up
Type
Temp
(℃)
Precool
Color
Size
JAN Code
CMー 9
9
ー18℃ or lower
×12hours
White
to
red
7.5φ×75mm
4582130423301
CMー 3
3
4582130423318
CMーM4
-4
4582130423325
CMーM10
-10
ー25℃ or lower
×12hours
4582130423332

CMーM15

-15

ー40℃ or lower
×12hours

4582130423349

CMーM20
-20
4582130423356
How to use
Take out a CRYOMARK™ indicator from the bag and precool it at -18℃ or lower (at -25℃ or lower for CM-M10) for at least 12 hours.
Use supplied tool to bend CRYOMARKTM.
Place CRYOMARKTM near product whose temperature is to be monitored.
Precaution for use
To activate the CRYOMARK™ temperature indicator, use always the dedicated activation tool. If you activate CRYOMARK™ with a different procedure, it may not function normally.
Please use this tool at the designated temperature ranges (-40℃ to 40℃) at ordinary pressrue.
Please do not disassemble products to take contents.
Please do not repeat freeze/thew cycles. The indicator may be unintentionally activated.
CRYOMARK™ which has already changed color may be discolored by the effect of temperature and UV-lays.
The leakage may happen if the colored CRYOMARK™ is stored for a longer period at room temperature. Please dispose of it after the color change.
CRYOMARK™ may not change color in a short-time temperature rise less than 1 hour.
CRYOMARK™ may not be used in liquid such as antifreeze liquid, water, and oil, nor at certain conditions, such as in pressurized or depressurized area, a microwave oven, boilin water and fire.
Unused products can change color if dropped off or get an impact.
The color-change is tested under the test conditions of us. The color-change or no color-change of CRYOMARK™ do not provide any guarantees on the quality of the products which are packed in the same box.
The expiry date is three years after production date.
The varidated period is 28 days after activation.
*THERMOLABEL, RETOMARK, MEDESHILL, UVLABEL, DEWLABEL and Thermo-Paint in all the contents including digital catalog in this website are registered trademarks in Japan of NiGK Corporation.


is registered trademark of NiGK Corporation, in Japan,New Zealand and Philippines.
isregistered trademark of NiGK Corporation, in Japan,Australia,European Union and Switzerland.
CONTACT
For questions about the products,
please click the banner.

Send Inquiry