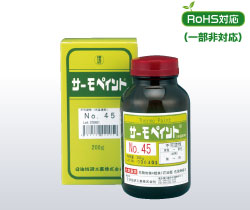 Temperature-indicating paint for monitoring the temperature of large and uneven surfaces
Temperature range:50~450℃
RoHS Compliant
| Reversible | Irreversible | Semi-reversible |
| --- | --- | --- |
| | ● | ● |
スクロールしてご覧いただけます。
Lineup
Colors shown are approximate colors.
Type
Temperature(℃)
Original
High temp.
JAN Code
Semi-reversible
No.5
50

Light pink

Bright blue
4582130421871
No.7
70

Light pink
Bright bluish purple
4582130421888
No.8
80

Light pink

Bright purple
4582130421895
No.9
90

Light pink

Bright purple
4582130421901
No.11
110

Light green
Bright bluish purple
4582130421918
Irreversible
Low-temp
No.13
130

Light red-purple

Blue-purple
4582130421925

**

*


No.14
140

Bluish green

Light purple
4582130421932
No.16
160

Light plue

Dark gray
4582130421949
No.18
180

Red-purple

Brown-black
4582130421956
High-temp
No.20
200

Light yellow-orange

Blue-purple
4582130421963

*

No.22
220

White

Gray-black
4582130421970

*

No.25
250

Light greenish-blue

Reddish gray
4582130421987
* No.29
290

Light pink

Black
4582130421998

*

No.31
310

Bright bluish gray

Brown-black
4582130422007

*

No.33
330

Light blue-green

Gray-black
4582130422014

**

No.36
360

White

Orange
4582130422021
No.41
410

Blue

Brown-white
4582130422038
No.44
440

White

Light yellow-brown
4582130422045
No.45
450

Purple

White
4582130422052
200g per glass bottle
*Designated non-medical deleterious products 

**
Non-RoHS Compliant


スクロールしてご覧いただけます。
Related supplies
| Type | qty | JAN Code |
| --- | --- | --- |
| Thinner (for irreversible/semi-irreversible, low temperatures) | 200gcan | 4582130422106 |
| Thinner (for irreversible, high temperatures) | 200g can | 4582130422113 |
スクロールしてご覧いただけます。
Cautions
Before using a product, consider its characteristics (semi-irreversible or irreversible). For details, download the technical document and refer to it.
Clean the surface to be coated properly before applying.
Stir well with a thin stick before use as the pigment sinks to the bottom.
Color-change temperature is the temperature at completion of the color change when heated at 2-3°C/min.
Drying takes 4-5 min. at room temperature.
The solvent is flammable and volatile. After use, close the lid tightly and store inside its box in a cool, dark place with good ventilation and away from fire.
Products should be used within 1 year of purchase.
Some products are pursuant to Japan's Poisonous and Deleterious Substances Control Action.
Require special handling charges to transport to overseas.
Cautions for Semi-Reversible/Irreversible Types
Color-change temperature may vary slightly due to the effects of parameters such as heating rate, heating time, pressure and reactive gases. For more details, refer to the technical brochure for irreversible Thermo PaintTM.
Apply approx. 80-100g per square meter. Apply with a brush.
Semi-irreversible types are not suitable for repeated use.
CONTACT
For questions about the products,
please click the banner.

Send Inquiry